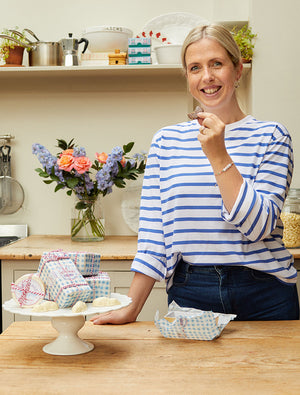 Dear reader,
I write this note to you whilst sitting in my factory, surrounded by all-things chocolate… think Charlie and the Chocolate Factory, but with a lot more hairnets, stainless steel, and white coats!
Everything you discover here — from the delightfully quirky chocolate shapes to the oh-so memorable packaging — is imagined, designed and illustrated by me, and crafted by an amazing team in our factory in Bedfordshire, or by fellow small-batch makers around the Great British Isles.​
​We're proud to say that all of our cocoa — our main ingredient, of course! — is ethically sourced to support foundations that help farmers protect their livelihoods and communities.
We're also happy to say that 99% of our packaging is plastic free, and simply made to be treasured for years to come. The playful designs make for perfect gifts, and many of our customers have let us know how much they still love their token tins and keepsake boxes long after their treats have been devoured. It is important for us to take responsibility for our packaging and encourage people to recycle, reuse, and home compost whenever possible — so we can all work together to protect our wonderful home planet.
Finally, thank you for shopping with us, and allowing myself and my team to do a job we adore.
Happy exploring,
Lauren x